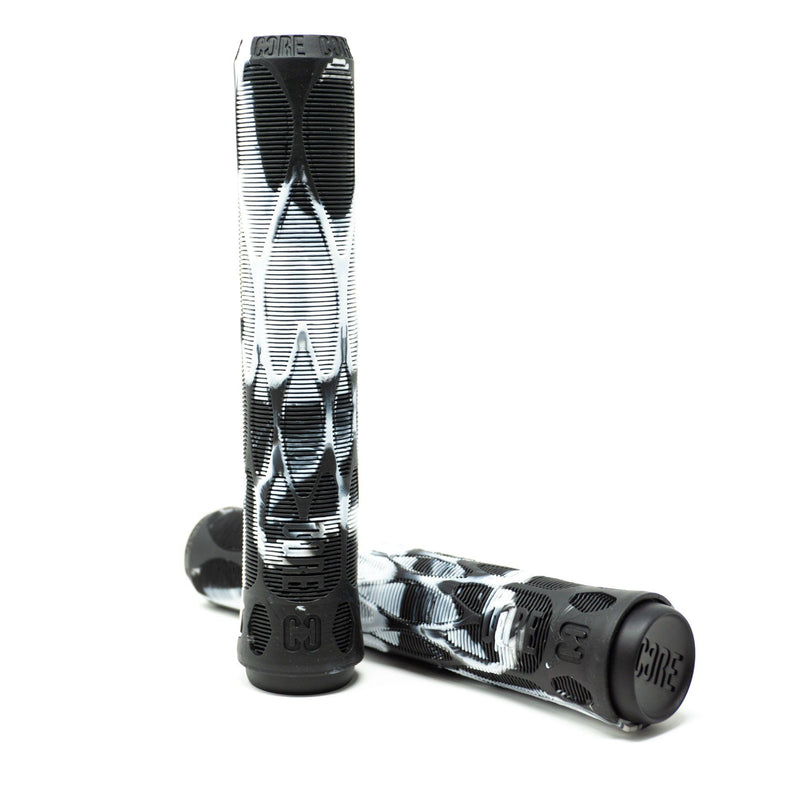 SKU: COR-620-PRO-170-SLA
CORE Pro Handlebar Grips, Soft 170mm – Slate (White/Black)
Free shipping on all orders over £50
Free Rampworx Stickers & Goodies
Supports our Skatepark, a registered charity

CORE Pro Handlebar Grips, Soft 170mm – Slate (White/Black)
A year in design, development and testing the CORE Pro Handlebar Grips are now available. We have developed our CORE Pro Handlebar grips to fit perfectly onto all scooters and bikes using a super soft and comfy compound. 100% custom designed to fulfil the needs of action sports riding. Premium design and materials throughout.
CORE Pro Grip Features
2 x Pro Grips
2 x Bar Ends (standard size)
Large Grip length 170mm
Tapered ends for increased comfort
Geometric engineered design for increased grip performance
Shock absorbing compound
Pro comfort – super soft
Designed for Action Sports
Eco-friendly packaging 100% recyclable.
Installation Instructions:
Remove old grips and clean bars thoroughly.

Slide grips onto bars using rubbing alcohol, hairspray or grip glue.

Allow drying for a minimum of 12 hours before use for a secure fit.